The DECON/pak is a self-contained agent proportioning and rinse application system helping to provide simple and gross decontamination of firefighting personnel and equipment.
Flow is controlled by a twist grip valve that also functions as a carrying handle. Cleaning agents are added through the large, easy-open fill port that includes a debris screen.
Large selector for agent proportioning from 0.1 to 0.5% for cleaning agent** or set to rinse with water only.
Stores easily in tight compartment spaces.
Studies show that field decon using soap, water and brush can reduce cancer causing contamination on turnout gear by 85%*
Specifications
Weight: 10.4 lbs (4.7 kg)
Height: 17.3" (43.9 cm)
Polypropylene 2.5 Gallon (9.5 l) Concentrate Tank
1" (25 mm) or 1.5" (38 mm) Pressurized Hoseline
12' (3.7 m) Discharge Hose (additional lengths available)
Detachable Fan Spray Nozzle
1.5"
*Source: Journal of Occupational and Environmental Hygiene DOI: 10.1080/15459624.2017.1334904
** Contact your turnout gear manufacturer for cleaning agent recommendation for your specific gear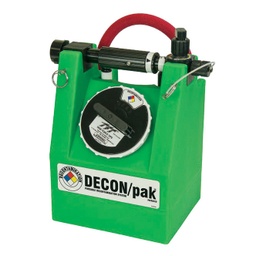 Decon/pak