KLEAN/pak - Portable Mass Disinfection System
As the world transitions to being open for business again, everyone is asking, "How do we open safely?"
Task Force Tips has a tool to help. For over 50 years, TFT has been manufacturing equipment to help save lives and protect property. The new, patent pending, TFT KLEAN/pak mass disinfection system continues that legacy of protection.
The KLEAN/pak allows municipal, commercial, and industrial users to safely, effectively, and quickly disinfect areas by simply adding garden hoses, water and one of the dilutable liquid disinfectants shown on EPA's List N of products for emerging viruses like COVID-19, MERS, and SARS.
The KLEAN/pak is made in the USA by a global leader in public safety water flow products. It is factory calibrated and has an adjustable metering valve that helps you ensure that the disinfectant concentration is safe and effective.
Clean from 1,000 to 300,000 square feet between refills. KLEAN/pak helps businesses, parks, industrial facilities and schools stay safe.
KLEAN/pak is so easy to use.
The KLEAN/pak is an industrial grade, portable mass disinfection system that is designed to provide disinfecting solution over a large area with an easy to use standard garden hose water supply. Using the KLEAN/pak, with appropriate disinfecting solutions, gives a quick and easy way to disinfect larger items and items with areas that are difficult to reach with a wipe. Since the KLEAN/pak is not an aerosol dispenser, the spray droplets are larger and won't get carried away by the wind, resulting in more disinfecting solution making it to the items being disinfected.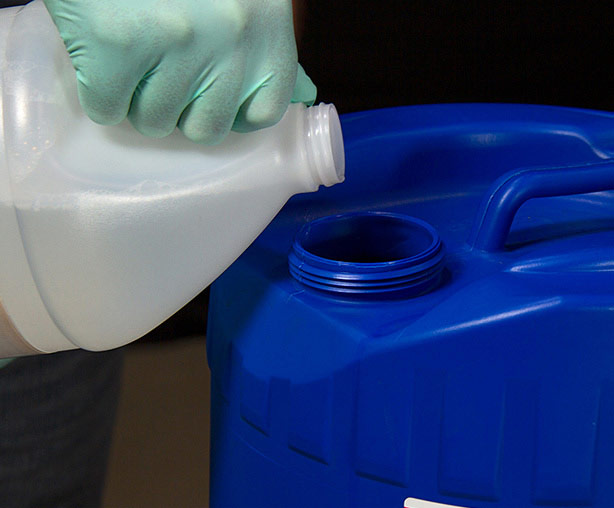 1. Fill Reservoir

Unscrew the fill lid. Fill reservoir to bottom of fill lid. Disinfectant may seep out if overfilled.
2. Attach Head & Set Controls

Insert the pickup tube into the jug and screw on the fill lid. Turn to the required concentration per the disinfectant manufacturer's Technical Data Sheet.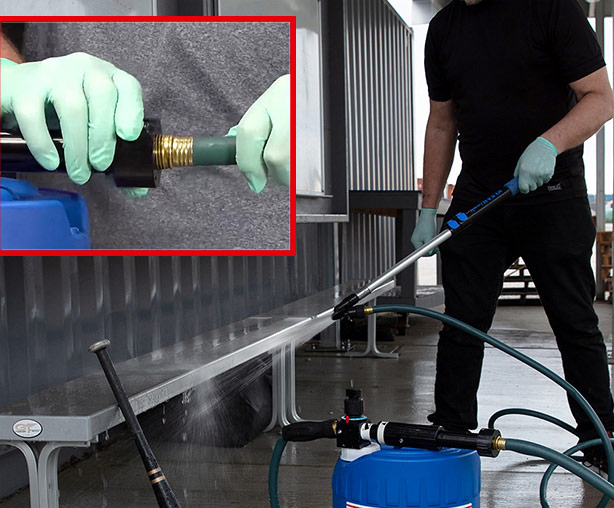 3. Attach Hose & Spray

Attach 5/8" (16 mm) garden hose to the water source. Screw flat fan nozzle and wand onto the garden hose output. You are now ready to spray!
The KLEAN/pak works with lots of different disinfectants.
Many of those solutions have different dilution rates. That's why the KLEAN/pak has an adjustable metering valve that is factory calibrated and flow tested. It ensures the concentration mix of water to disinfectant is right every time and can be adjusted for almost any appropriate cleaner. See the CDC's Guide on Disinfecting and Health Canada's list of Disinfectants for COVID-19 or the EPA's list of Disinfectants for Use Against SARS-CoV-2.
Features & Benefits
No special equipment required. Just add standard garden hoses, tap water, and disinfectant liquid.
User only need wear standard safety glasses and gloves.
Not limited to one disinfectant solution. Choose from many types and brands found on Health Canada's list of Disinfectants for COVID-19 or the EPA's list of Disinfectants for Use Against SARS-CoV-2.
Simple to use. No special training needed.
Up to 5 hours of use between refills.
Fast, so employees can quickly disinfect and get back to their normal duties.
Accurate, calibrated and flow tested metering valve helps ensure the disinfectant to water ratio is right every time.
Safe, it runs on regular tap water at normal pressures.
Flexible, it doesn't need gasoline or power to operate and can be used anywhere a garden hose can be used.
Affordable, other kits cost several thousand dollars.
Made in America by water flow experts that have been trusted by first responders for over 50 years.
Specifications
Rated Flow: 2gpm @ 70psi (7.6lpm @ 4.8bar)
Pressure Range: 30 - 300psi (2 - 20bar)
Tank Capacity: 5gal (20L)
Metering Range: 0 - 9 ounces/gallons
Inlet/Outlet: 19mm (0.75") GHT
Nozzle: Low-pressure flat fan spray
Spray Coverage: 4ft x 4ft (1.2m x 1.2m)
Wand Included: 1.5ft - extendable to 3ft
Nozzle Wand Adapter: Standard extension pole thread
Disinfecting Solutions: For use with Non-alcohol based disinfectants
Calibration Viscosity: 1.00 CPS (same as water)
Two GHT hoses are required (not included)
Disinfectant not included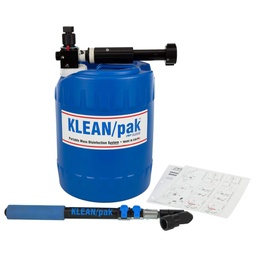 KLEAN/pak - Portable Mass Disinfection System