Hot Shield HS-2 Wildland Firefighter Face Mask
The Hot Shield Firefighter Face Mask is a multiple layer, highly flame resistant, patented face protector mask designed by firefighters for use in all wildland firefighting operations. The Hot Shield offers extreme protection against burns to the face/neck with the added benefit of blocking & reducing the inhalation of smoke & ash particulate. Multiple layers of CarbonX® help maintain the crucial airspace in front of skin needs to survive extreme temperatures. The soft comfortable inside liners (also CarbonX) absorb perspiration, adding to user comfort.
Features:
Extreme thermal protection against extreme conditions
New larger Air Exchange Design for easier breathing
Multiple layer with airspace design for comfort and protection
Lightweight, only 6 oz./168g including filter
Comfortable, one size fits all
New optional use tri-band headstrap for better comfort and fit
Sandwiched aluminum nose pinch bar for a more comfortable fit
Hangs loose around neck until needed
FR Velcro closures and 3M Reflective trim for night time visibility
Low maintenance - Available low cost, activated carbon filters last for more than 8 hours (no more styrene foam beads or gooey gel filters)
Numerous laboratory and field tests…proven protection
Washable
Twin layers of CarbonX mesh at the center ventilation orifice allowing easy air exchange and helps prevent build-up of CO2. The patented, user-friendly design allows the firefighter to insert an activated carbon, low cost disposable particle filter with exhalation valve.
CarbonX is the only inherently non-flammable fabric in the world. This fabric will not burn, ignite, char, shrink or decompose at temperatures up to and exceeding 2600°F, even for extended periods of time. (See FAQ for more info on this fabric)
The Hot Shield weighs 4.0 oz. (112 g), incorporates reflective trim for night time visibility and is classified as an interface component of Wildland PPE. Its performance under fire & smoke has led to acceptance in industries other than wildland firefighting where these hazards are common to the workplace.
This product comes with 1 carbon filter included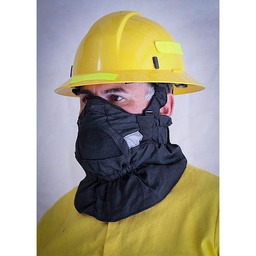 Hot Shield HS-2 Wildland Firefighter Face Mask