Supported Elevated WFR Monitor
Elevated monitors are ideally suited for problem applications that are difficult to reach from ground level with fixed or portable equipment. Typical installations include dock protection and high hazard petrochemical areas. Elevating the monitor serves high-hazard areas that may otherwise be obstructed, putting the monitor at the appropriate height to reach the target.
Supported monitors range up to 111 feet (34m), depending upon the flow/distance requirement and water/pressure available for the application.
Supported monitors consist of the base portion with the vertical and horizontal motion control mounted with the appropriate cable length and the upper portion consisting of the monitor with a 4" (102cm) male NPT base complete with one reaction support. Inter-connecting pipe is available upon request.
The monitor base assembly and discharge sections are joined by full lengths (21'/6.4m) of 4" (10 cm) nominal diameter schedule 40 galvanized steel pipe. The quantity of pipe lengths can be 1-5 depending upon the desired height of the monitor after fully engaging the threaded ends. A .25" (6mm) long fillet weld (2 at each thread) is recommended to prevent unscrewing. First reaction support should be within 7' (2m) of nozzle. Additional supports should be spaced 20' (6m) apart.
360° horizontal motion ± 45° vertical motion with position locks in each plane
Red epoxy coat monitor finish
Galvanized steel drive tube
Stainless steel elevation cables
Elevation and rotation locks
Vertical motion control handle
Includes one Reaction Support to counter the reaction loads and allow for smooth rotation
Options
WFR shape tips
Fog nozzles (hydraulically operated or cable operated)
Flow straighteners to maximize reach
Above ground intake base assembly and inlet butterfly valve
Manual hydraulic pump (for fog nozzle actuation)
Pump to nozzle installation kit/remote swivels grease kit
Automatic/manual drain for freeze protection
Heat shield
Additional reaction supports. One reaction support is required for each 20' (6m)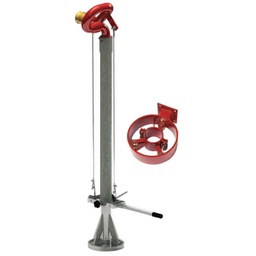 Supported Elevated WFR Monitor