C-1 Internal Pipe Plugger Kit
The C-1 Internal Pipe Plugger Kit allows hazardous materials to be piped off (under a regulated flow) to an alternate location. You can now control a leaking pipe without sealing off a community.
Convenient Take Along Kit - One conveniently-designed kit prepares you to react quickly and effectively when hazardous materials escape from pipes. The kit contains vented plugs for 1" - 4" (25mm - 100mm) pipe diameters, non-vented plugs for all other sizes, and tools for easy installation.
Fast and Easy to Use - No complicated procedures are required and no additional tools are needed to utilize these pipe plugs. Because most hazardous material leaks create a potentially life-threatening or property-threatening situation, no emergency response vehicle is fully equipped without a C-1 Kit.  Also, by containing a problem before it gets out of hand, your staff can save valuable man-hours that might otherwise be spent in full-scale evacuation of an area. 
Kit Components:
(1) 3/4" pipe plug
(9) Vented pipe plugs (1", 1-1/4", 1-1/2", 1-3/4", 2", 2-1/2", 3", 3-1/2", 4")
(1) Valve with nipple
(1) Clear hose length
(1) Tool Pack
(1) Toolbox carry case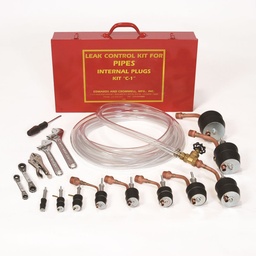 C-1 Internal Pipe Plugger Kit