C-3 External Pipe Patch Kit (Large Pipes)
The C-3 External Pipe Patch Kit is your hazmat control kit for leaks from large pipes. The kit contains a set of external pipe patch clamps for pipe sizes from 5" - 8" (125mm - 200mm). It can be utilized anywhere there is a pipe or line in: municipal departments, chemical plants, manufacturing facilities, hospitals, oil field, and water/sewer treatment plants.
Typical Applications: 
Water pipes
Gas lines
Air lines
Fuel transfer pipes
Chemical transfer pipes
Sewer pipes
All low-pressure lines from 5" - 8"
Kit Components:
(3) Pipe patch clamps (5", 6", 8")
(1) 9" x 22" Foam patch
(1) 8" x 12" Rubber patch
(1) Tool pack
(1) Toolbox carry case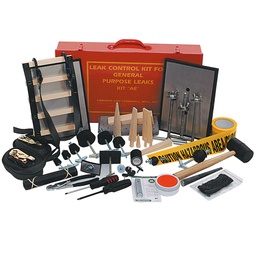 C-3 External Pipe Patch Kit (Large Pipes)