Floating Rescue Walkway - 16'
Inflatable Walkways are versatile pieces of equipment that can be used as a path, platform, pontoon or raft. 2 pontoons running underneath the Walkway give it excellent stability.
Standard Features: 
Main tube fabric: 150mm thickness Drop stitch fabric  
Non-slip soft foam on the top 
Stainless steel D-rings around perimeter

Four handles

The main safety valve uses British imported valves A6.
Standard Equipment: 
Specifications
5m l x 1.2m w x 30cm h (16' x 4' x 12')
103lbs. (47kg)
Maximum inlet fill (floor) - 10psi (0.7bar)
Maximum inlet fill (pontoons) - 5psi (0.35bar)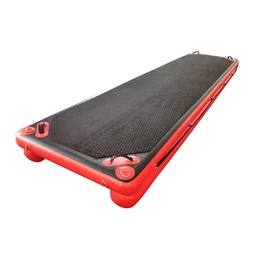 Floating Rescue Walkway - 16'