Pelican 9410L LED lantern
Pelican designed the yellow 9410L LED Lantern to meet the demanding needs of firefighters and other professionals who work in hazardous industrial environments. Its four high-output white-light LEDs produce 463 lumens of light on low and a darkness piercing 2207 lumens on high. A secondary flashing mode can be used to signal to a partner. To ensure the light is exactly where you need it, the housing can be put down on its base or stood up on its tail, and the head can pivot up to 120° with click-stops at regular intervals.
The ABS plastic body is corrosion, temperature, and impact-resistant. So it will keep working in extreme conditions, while also remaining a neutral comfortable temperature in cold or wet environments. The body is sealed and has an IPX4 rating, so it can be used in driving rain or water. It comes with a lithium-ion battery pack and charging base. The base charges the battery in the light, so you can grab it in a hurry if an emergency calls.
Power meets simplicity, and built Pelican-tough, to keep you going when the lights go out.
Performance
Low: 463 lumens
High: 2207 lumens
Four white-light LED array
Flashing mode can be used to signal or mark location
120° pivoting click-stop head for precise beam placement
Lay down or tail stand to put the light in position
Switching
Type: Push button
Location: Handle
Constant-on activation only
Press button to cycle through outputs
Construction Details
Approved to NFPA (National Fire Protection Association) 1901 standard for use by firefighters and in hazardous industrial environments
ABS polycarbonate body is impact, corrosion, and temperature resistant
Ribbed handle provides a slip-resistant grip
Includes detachable shoulder strap
O-ring sealed to a water-resistant IPX4 rating
Impact resistant to 3.3' (1m)
Weighs under 3 pounds
Electronics
Runs on six included 18650 rechargeable batteries
Integrated battery status indicator in switch: Green more than 75% charge, amber 25-75% charged, red when battery is less than 25% of capacity
Mountable charging base charges battery while in the light for fast access and activation in an emergency, light locks into base for added security
LED charging status indicator on charging base shows charging/charged
100-240 VAC charging cord with standard US wall outlet plug
Optional 12 VDC vehicle charger and direct-wire kit available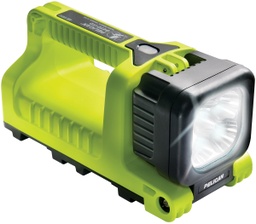 Pelican 9410L LED lantern