Truckman's Choice 7100TC (372XP-TC) Series - Fire Rescue Chainsaw (Cutters Edge)
The 7100TC & 9000TC Series Fire Rescue Chainsaw are engineered and built specifically for the fire service to deliver high-performance cutting in the extreme conditions you operate. We start with either a 71 or 88cc XP Professional Grade powerhead now built by Husqvarna and modify from there. Every saw comes standard with features like One-Step Starting, Full Wrap Handles, Guard Plates, and West Coast Filters. From there, you can choose either a 12, 16, or 20″ High Alloy Guide Bar, Your choice of Single, Dual or Bullet Raker Type Carbide Tipped Ventilation Chain, and an Optional Depth Guard. We build our  7100 & 9000 series Fire-Rescue Chainsaws to meet or exceed the specifications for the Cutters Edge® 2100 series MULTI-CUT® Fire Rescue Chainsaw. All saws come with a 2-year warranty.
Features
Engine: Using professional-grade 71cc & 88cc XP® powerheads made by Husqvarna, The XP® engines are the ideal combination of high power, high torque and low weight. Combined with the West Coast Filter & Velocity Stack, our engines will give you the ability to run longer in the heat and smoke and give you 10% more power than the stock Husqvarna saw.

"D" Starter Handle

Extra-large "D" Handle for your structural fire gloves.

One-Step Starting

Simple & Reliable starting procedure for today's firefighters.

Momentary Contact Switch

Switch is always in the "On" position to reduce the chance of flooding.

Full-Wrap Handle

Allows the operator to cut safer in more positions. It also functions as a chain catcher.

Solid Steel Alloy Guide Bar

High strength alloy solid steel with hand-ground flame hardened chain rails, forged for extreme cutting conditions.

Scrench Tool

Multi-Tool mounted right on the saw to remove the spark plug and adjust the chain.

Bullet Raker Ventilation Chain

Protects the specially designed carbide cutter with a raker shaped like a bullet. Combined with a narrow gullet, this design increases durability and safety over traditional wide gullet chains.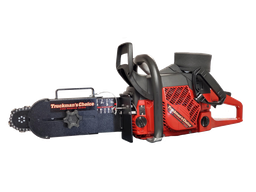 Truckman's Choice 7100TC (372XP-TC) Series - Fire Rescue Chainsaw (Cutters Edge)