TFT Twister Forestry Selectable Nozzle
The 1" (25mm) Twister is a selectable, dual gallonage, combination pattern nozzle, available in 0.75" (19mm) or 1" (25mm) threads and is designed for simplicity and durability. The rubber bumper provides a positive grip and protects the front end. Twisting the shaper from the "off" position produces the following settings: low flow straight stream, low flow narrow fog, high flow straight stream, then high flow fog. The Twister, with its optional coloured pistol grip and handle covers, is a rugged, economical nozzle that will accept the FJ-MX-D FoamJet multi-expansion foam aspirating attachment.
Available in two sets of flow settings: 10 and 24 gpm @ 100 psi (37 & 90 l/min @ 7 bar), and 10 and 40 gpm @ 100psi (37 & 150 l/min @ 7 bar).
Made of all lightweight materials, hardcoat anodized aluminum
Tip only configuration has a twist "off" position for break-and-extend operations
Quick change rear valve seat and stainless steel shut-off ball
Pistol grip is mounted below the valve
Tip only configuration weighs 0.6lbs. (0.3kg) and is 4" (10cm) long
Ball valve shut-off configuration weighs 1.5lbs. (0.7kg) and is 6.25" (16cm) long
Ball valve shut-off & pistol grip configuration weighs 1.9lbs. (0.9kg) and is 6.25" (16cm) long
Our most popular configuration is with shut off valve and pistol grip NPSH thread used in forestry operations.
We also have other confirmations of this product under 38mm (1.5") for higher flows. 
Available options upon request:
NH thread
Tip only, no pistol grip, twist shut off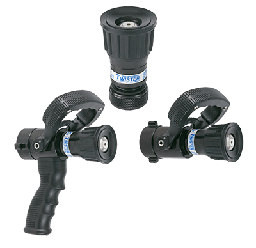 TFT Twister Forestry Selectable Nozzle