TFT Twister Forestry Fixed Nozzles
The Twister nozzle is now available in a single 95 gpm setting! A perfect match with any 95 gpm foam eductor, for accurate foam application operations!
The simple but rugged 95 gpm Twister nozzle offers outstanding performance for: 
Municipal and Industrial Foam Operations
Industrial Hose Reel and Hose Cabinet Applications 
Industrial Fire Suppression Compliance Projects 
Wildfire and Brush Fire Operations 
Features include: Single 95 gpm flow setting. All lightweight materials, hard coat anodized aluminum. Quick-change rear valve seat, stainless steel shut-off ball and a twist "off" position for positive shut off. Knurled rigid-base, 1.5" NH (38mm) is standard. The 95 gpm Twister is available in three separate configurations: stand alone nozzle, nozzle with shutoff, and nozzle with pistol-grip shutoff mounted below valve.
All Tip Only Models Operate with a Twist Shutoff Operation
All Ball Valve Models use TFT's Unique Stainless Steel Ball Shutoff
Ball Valve Models Include the Quick Change Rear Valve Seat System that Does Not Require Tools or Removal of the Ball.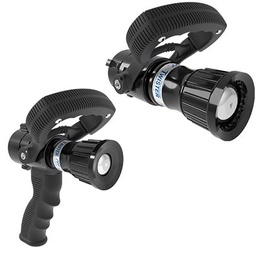 TFT Twister Forestry Fixed Nozzles