TFT Siamese Clappered Valve 2-Way
Lightweight aluminum Siamese fitting shall be provided. The fitting shall be NFPA compliant with a 900 PSI hydrostatic test rating. A clapper valve shall be centrally located at the inlet side of the fitting. The unit will have carbide tipped spikes and compatible with Crossfire Safe-Tak portable monitor base with 5" Storz inlet.
For maximum corrosion protection the aluminum casting shall be hardcoat anodized, with stainless steel components. The fitting shall have a red powder coat interior and exterior finish.
The fitting shall be configured with two (2) 2.5" female NH swivel rocker lug couplings and a 4" or 5" Storz swivel coupling and include polymer bearing strips for prevention of galvanic corrosion. The unit shall be covered by a five-year warranty.
Available options upon request: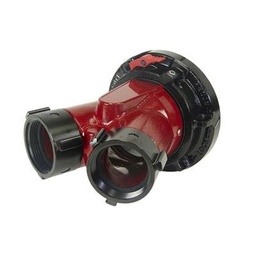 TFT Siamese Clappered Valve 2-Way