TFT Monsoon RC 1250gpm Monitor
The Monsoon RC for pumper installations is an electric remote controlled monitor that has all the benefits of the Monsoon Monitor with the addition of powered operation. It has a greater horizontal sweep angle than the RC model for Ladder or Platform installations. Designed for 12 VDC or 24 VDC operation, selection is automatic. The Monsoon RC comes with a factory installed control panel mounted on the monitor for controlling horizontal rotation, elevation, nozzle pattern, and programmable PARK an Oscillate. The motor control circuits are factory installed on the monitor and use position encoders and current limiting to protect the drive train at the ends of travel. Unit comes with 30 feet of ultra-flexing robotics cable already wired to the monitor so installation effort is minimized. Cable has only four conductors (two for power and two for communications) further easing installation effort. Cable is enclosed in a unique wire guide that allows 450 degrees of horizontal travel (225 degrees either side of a center position) which is far more reliable than slip rings or coil cords. Knobs for manual override are provided on the horizontal rotation and elevation drive. TFT's Master ERP Nozzle plugs into the factory installed nozzle power wire.
* Our Standard configuration is 77mm (3") NPT inlet with 65mm (2.5") NHT discharge.  Other options are available upon request  

Standard 3.5" (65mm) outlet

Electric drives and control box are waterproof

Main waterway made from hardcoat anodized ANSI 356-T6 aluminum

Silver powder coat finish inside and out

17.3"l x 13.75"w x 16.7"h (44cm x 35cm x 42.5mm)

Weighs 37lbs. (16.8kg)
Note: Nozzle and controllers are not included with monitor.
Specifications for TFT Monsoon RC 1250gpm Monitor
| | |
| --- | --- |
| Configuration | For pumpers or For ladders or platform mount |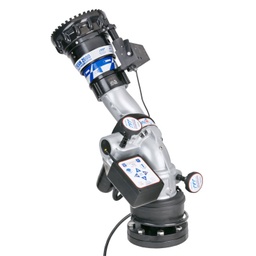 TFT Monsoon RC 1250gpm Monitor