TFT Jumbo Siamese Clappered
Designed for 2.5, 3, 3.5,

4-, 4.5-, 5-, or 6-inch

 (65, 75, 90, 100, 115, 125, or 150mm) hose. All

Siamese

 appliances feature a clapper valve with indicator for visual check of clapper position. TFT's

Siamese

 are more efficient for LDH flow systems. Maximum operating pressure is 250 psi (17 bar). Meets 900 psi (62 bar) hydro-static strength test. The aluminum castings are hard-coat anodized and TFT-powder coat finish inside and out for maximum corrosion protection. Rugged carrying handle included. 
Clapper allows a second line to be added without interruption in water fl ow. Three strategically placed legs allow the appliance to sit off the ground even with 6" Storz on inlet/outlet. Large main housing provides superior strength and durability. Hose couplings are attached using polymer bearing rings, which provide electrical isolation to help prevent galvanic corrosion.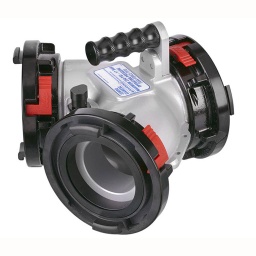 TFT Jumbo Siamese Clappered