TFT Crossfire Portable Monitor w/ Safe-Tak Base 1250gpm Package
The Crossfire monitor is the most versatile master stream appliance ever offered to the fire service. Its lightweight, compact design and unique quick-release swivel joint allow for a faster and safer stream deployment in the portable attack mode. The Safe-Tak 1250 utilizes the revolutionary, patent pending Safe-Tak "flow safety valve". Should the monitor lose contact with the ground surface, the Safe-Tak will automatically reduce flow to the monitor. This safety feature reduces the risk of injury from an out-of-control appliance. The connection is easy, positive and visually verified. When in use, the release is "locked out" by water pressure.
* Standard option comes with base, 1250gpm Master Stream nozzle,BAT inlet, quad stacked tips, 5in stream shaper and storage bracket. Other options are available upon request.
Large 3.25"(83mm) waterway which lets the Crossfire deliver up to 1,250 gpm with low friction loss
Monitor top and base are hardcoat anodized aluminum with TFT-powder coat finish inside and out
Horizontal rotation is securely locked with a simple lever and position can be visually confirmed
Only seven turns of the hand wheel change the discharge elbow from vertical to the stop elevation
Includes highly visible pressure gauge and built-in automatic drain valve
Standard outlet thread is male 2.5"(64mm) NH
22"l x 14"w x 14"h (56cm x 36cm x 36cm) (monitor only)
Weighs 17lbs. (7.5kg) (monitor only)
2.5" outlet (65mm)
The Safe-Tak Portable Base is supplied with either two clappered swivel inlets or with a single full-time swivel inlet. The stainless steel, carbide-tipped base support legs can be folded to easily fit inside a small apparatus compartment, or for carrying pre-connected to a hose line. Includes a safety tie down strap with attached storage cap.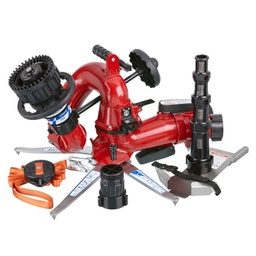 TFT Crossfire Portable Monitor w/ Safe-Tak Base 1250gpm Package