TFT 5 Way Valved Manifold
5-way manifold is most commonly configured with Storz swivel inlet and outlet with a slow open/close valve with only 2 PSI friction loss at 1000 GPM. The unit shall have four (4) 2-1/2" male outlets with quarter-turn aluminum ball valves with full 2-1/2" waterway, and color-coded folding Nylon handles with auto-lock feature.
Comes with a  carrying handle as standard.
Usually equipped with a plugged port where an adjustable automatic pressure relief valve may be installed.
A protected pressure gauge shall be included.
For corrosion resistance the unit shall be hardcoat anodized aluminum alloy and shall have a silver powder coat interior and exterior finish. Meets NFPA 1965 900 PSI hydrostatic testing. The unit shall have a unique serial number and be covered by a five-year warranty.
* The most common configuration listed above is with Storz swivel and male outlets
Available options upon request:
Other threads

Rigid vs swivel

Female thread
Specifications for TFT 5 Way Valved Manifold
Adapters
Thread Size
125mm (5'') Storz inlet/outlet x Four (4) 65mm (2.5'') BAT outlet or 100mm (4'') Storz inlet/outlet x Four (4) 65mm (2.5'') BAT outlets
Product
Product Options
No PRV (Pressure Relief Valve) or With PRV (Pressure Relief Valve)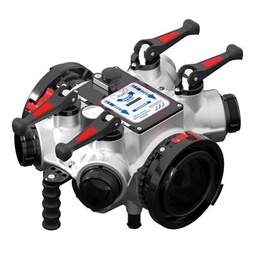 TFT 5 Way Valved Manifold