Super Vac Valor Battery Powered PPV Fan
Never in firefighter history has one fan worked with your department's other battery-operated tools. Until now. The Super Vac variable-speed battery fan, equipped with dual DeWalt or Milwaukee batteries, is the most swappable PPV interface on the market. Finally, the industry can turn to a fan with a trusted battery name that pairs with Super Vac's dependable history.
At Super Vac, we have all the angles of attack covered — and then some. You won't find another battery fan that offers 180 degrees of tilt like this. Just one feature truly sets this battery fan apart from the others.
All Models Feature:
Compact, Roll-Cage Frame features a tough, yet lightweight aluminum frame to protect key components while providing a compact, lightweight design.
180-Degree Tilt provides the largest tilt range among battery fans, allowing airflow to be directed virtually anywhere
DeWalt FlexVolt Lithium Ion Batteries provide up to 45 minutes of max airflow, depending on battery selection.
Polymer Blades minimize weight; Super Vac's single-piece cast aluminum blade is available by request.
Precision-Spun Steel Shroud with StreamShaper Guard: Shroud provides durability with max airflow, while the StreamShaper guard allows for flexible setback; Air Cone Guard available on request.
5 year warranty on battery fan components & 3 year warranty on motor/battery.
Optional Shore Power: 120-240 V AC operation is available upon request.
Additional Features on 18" & 20" Models
Fold-Down Ergonomic Handle folds into the frame for compact storage; features full-width handle for easy grip with heavy-duty gloves
Flat-Proof Rubber Tires are highly maneuverable, and all without lifting the fan; easy to deploy by the smallest firefighters


16" Model

18" Model

20" Model

Size

22.75"h x 23.5"w x 12"d
(580mm x 595mm x 305mm)
25.75"h x 25.75"w x 12.25"d
(655mm x 655mm x 315mm)

28.25"h x 28.75"w x 12.5"d
(720mm x 730mm x 320mm)

Weight

45lbs. (20kg)

58lbs. (26kg)

63lbs. (28kg)

Output (DeWalt)

9,816 cfm (16,677 chm)

10,840 cfm (18,417 chm)

13,000 cfm (22,087 chm)

Output (Milwaukee)

9,131 cfm (15,514 chm)

9,618 cfm (16,341 chm)

12,550 cfm (21,237 chm)

Run Time

Up to 40 min.*
Up to 40 min.*
Up to 40 min.*
Motor
Variable Speed DC
Variable Speed DC
Variable Speed DC
Setback for Output Rating (DeWalt)
14' (4.3m)
15' (4.6m)
15' (4.6m)
Setback for Output Rating (Milwaukee)
16' (4.9m)
15' (4.6m)
15' (4.6m)
Angle for Output Rating (DeWalt)
5 degrees
10 degrees
10 degrees
Angle for Output Rating (Milwaukee)
10 degrees
12 degrees
10 degrees
*Up to 40 minute run time, depending on battery selection. The standard DeWalt FLEXVOLT 9.0Ah, and Milwaukee 8Ah provides 30 minutes of run time at maximum air flow, while the optional DeWalt FLEXVOLT 12.0Ah, and Milwaukee 12.0Ah provides 45 minutes of run time at maximum air flow.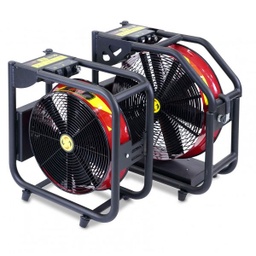 Super Vac Valor Battery Powered PPV Fan