Stop & Slow Paddle 16'' - BC
Whether you are using daily for traffic control or just to stop traffic for movement of trucks, these Stop & Slow paddles will stand up for you. They include a replaceable or changeable screw-in aluminum 12'' handle with a rubber grip.
The 16" octagon stop and slow paddle has DG (diamond grade) HIP (high intensity prismatic) tape on both sides. The SLOW side is yellow/black and the STOP side is red/white.
There is an optional adjustable pole handle that allows you to adjust the pole length from 4 - 6 feet placing the end on the ground for support and comfort.
Conforms to the MOT requirements for the province of British Columbia, Canada ONLY.
Thickness: 0.080"
Diameter: 16" octagon.
Weight: 1.5 lb. (0.7kg).
Material: Coroplast or Aluminum w/ DG HIP reflective sheeting on both sides.
12" handle with rubber grip.
Color:  Slow (Yellow/Black)  Stop (Red/White)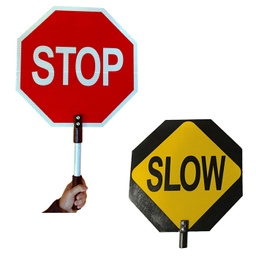 Stop & Slow Paddle 16'' - BC