Assembled - Universal
In crew areas where SCBA's are stored, keep them locked securely in place with this system. You can don the SCBA while en-route and keep it safely secured. When you reach your destination, pull the lanyard from between your legs, or alongside the seat and you are ready to go! This bracket will fit all brands and tank sizes.  
Includes the full bracket & safety strap with mounting hardware
Will fit all brands & tank sizes.
Meets NFPA 1901-3.
Assembled - 3 sizes:
For specific sized cylinders there are 3 options available. 
Includes the full bracket (no safety strap)*.

5.25" - for 30min HP cylinders.
6.10" to 6.57" - for 30min LP & 45min HP cyilnders.
7.25" - for 60min HP cylinders.
*If you require a safety strap and/or replacement parts, please see "SCBA Bracket - Parts" in Accessory Products.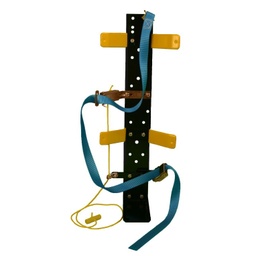 SCBA Bracket Assembled