Gorilla PKW Dry-Chemical Extinguisher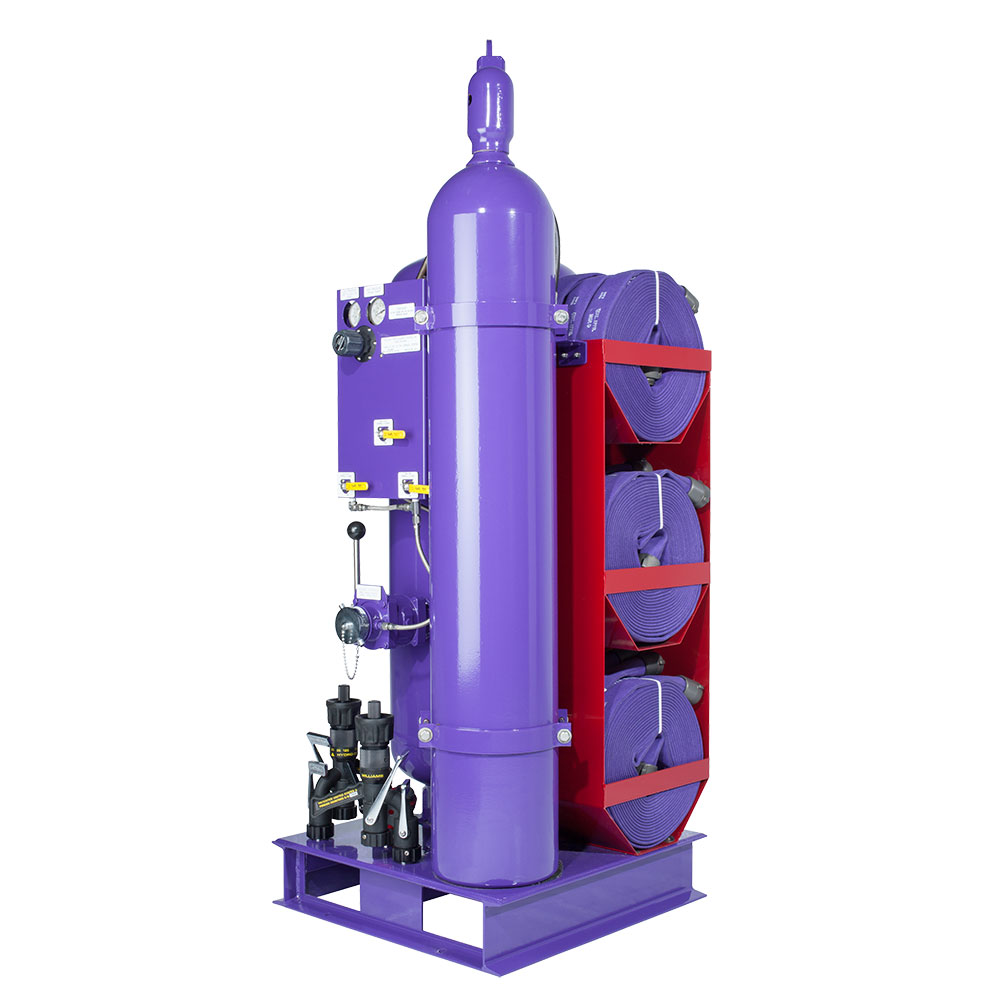 Gorilla PKW Dry-Chemical Extinguisher
---
Any industrial related 3-Dimensional fire requires forethought, tactical leverage, and adequate resources to sustain an overwhelming assault.
The Gorilla™ 500 LB PKW Dry-Chemical Pressure Vessel is designed as a three-dimensional fire response tool with about 30 lb (13.6 Kg) per second powder discharge capability. The pressure vessel is designed per ASME specifications.  Powered by a common 400 cubic foot (11.3 m³) nitrogen cylinder mounted on the skid, the GORILLA can apply PKW dry chemical using Hydro-Chem™ Ranger nozzles, Hydro-Chem™ Handgun nozzles (single, double, or even triple), or Dual Agent Foam Chambers from WILLIAMS FIRE & HAZARD CONTROL. This vessel will drive up to 600 feet (17m) of dry powder hose depending on hose size, number of lays, and the cylinder capacity.    
PKW™ Dry Chemical from WILLIAMS FIRE & HAZARD CONTROL is a highly specialized siliconized Purple-K that is one of the most effective dry chemicals used to extinguish flammable and/or combustible liquid fires. PKW is a potassium bicarbonate-based dry chemical containing chemical additives. The agent is free-flowing, water-repellant, non-abrasive and, when used as a fire extinguishing agent, produces no toxic effects.
Its distinctive, deep purple color provides the firefighter with the ability to stay on target when the dry chemical is projected onto the fire within the water/foam solution stream. The result, when combined with Hydro-Chem™ Technology, is the ability to achieve a quicker "knockdown", while using less chemical to complete the job.
The vessel has a standard 2.5" (M) NST discharge connection with an intuitive control panel. It can be easily transported by forklift or crane with built-in fork holes and lifting frame/eyes. It can also be secured onto a truck, trailer or other platform with its mounting holes in the lower skid.  Once the job is done, the vessel venting feature relieves pressure from the vessel safely and with ease. The venting nitrogen can be used to "pre-clean" the hoses followed by switching to pure nitrogen for thorough cleaning of the hoses. For sustained attacks, the vessel can be refilled, and the nitrogen cylinder replaced, in a matter of minutes.
This product is a great resource for supplying hand line and trailer-mounted monitor attacks on events involving running or falling fuels and pressure fires.
Applications
Volatile Fire Events
Rollover Events (18 Wheeler, Train, etc.)
Terminal Fires
Industrial Related 3-Dimensional Fires
Portable – The Gorilla™ 500 LB PKW Dry-Chemical Vessel can be dropped anywhere or mounted onboard a quick-attack truck to sustain overwhelming dual-agent attack options for three dimensional fires
Large Capacity – Contains enough PKW Dry Chemical to support approximately – 2.5 minutes of handgun operations or 30 seconds for a Ranger monitor/nozzle attack
Versatile – Compatible with mobile response or WILLIAMS FIRE & HAZARD CONTROL Dual-Agent Chamber storage tank protection system
GORILLA Skid Handgun Kit includes the base unit filled with 500 lbs (227kg) of PKW powder plus two Hydro-Chem handguns, dry-chemical hoses, hose rack, valved wye and threaded bumper mounts; nitrogen cylinder included* 
Nominal Weights and Dimensions
Weight: 1,000 lbs. (454kg) empty; 1,500 lbs (680kg) filled
Length: 30" (762mm)
Width: 30" (762mm)
Height: 81" (2,057mm)
Lifting Eyes; 1" (25mm)
Fork Holes: 8" × 4" (203mm × 102mm) 
Available Accessories
1.5" hose for handguns and low flow monitor nozzles
1.75" hose for mid-size monitor nozzles and dual agent foam chambers
2.5" hose for LARGE volume dry chemical delivery
Hose rack for on-board hose storage (up to 9 50' sections of 1.5" hose)
Collection manifolds for LARGE volume dry chemical delivery (up to 100 lbs/s)
Hydro-Chem™ Handguns (3-10lbs. per second interchangeable tips)
Hydro-Chem™ Ranger series dry-chemical nozzles (up to 50 lbs/s)
Hydro-Chem™ Large volume nozzle packages (up to 100 lbs/s)
Available without nitrogen cylinder (customer supplied)
*The nitrogen cylinder is usually shipped filled. It may be shipped empty due to regulations of certain shipping methods or destinations.
There are no alternative products.
There are no accessory products.
This is a preview of the recently viewed products by the user.
Once the user has seen at least one product this snippet will be visible.
Recently Viewed Products