Williams Adjustable Flow Hydro-Chem Hand-line Nozzle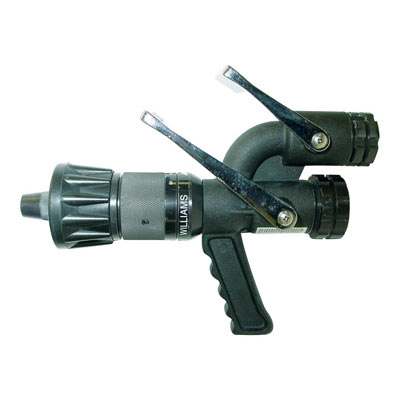 Williams Adjustable Flow Hydro-Chem Hand-line Nozzle
This product is no longer available.
---
Adjustable Flow dual-agent hand-line nozzle from WILLIAMS FIRE & HAZARD CONTROL incorporates a foam solution or water application with built-in Hydro-Chem™ Technology for simultaneous dry chemical application.
The nozzle is a powerful handheld discharge device designed to flow water or fire extinguishing foam solution supplied by a separate proportioning system. It features a pistol grip for easy and secure operations with gloved hands. It can be set to flow 60, 95 or 125 gpm (227, 360 or 473 Lpm) by the collar mounted ring adjustment. It also includes a flush setting for flushing out small objects caught in the nozzle. The water/foam stream is adjustable from full fog to straight stream by rotating the nozzle collar. 
What sets this nozzle apart from conventional hand-line nozzles is its capability to discharge dry chemicals such as WILLIAMS FIRE & HAZARD CONTROLS' PKW. After a fire is controlled by water/foam solution application, a dry chemical is usually the more effective way to extinguish 3-dimentional or pressured liquid fires. The dry chemical is piped in through a separate dry chemical hose using pressurized nitrogen gas.  When the flow valve on the dry chemical port of the nozzle is opened, the nozzle discharges the dry chemical through the center of the foam/water stream to achieve ranges not possible with conventional equipment. It greatly enhances the effectiveness and reach of the dry chemical application by using the water/foam stream as the carrier and reduces the risks fire-fighters are exposed to. The flow rate of the dry chemical is selectable at 3, 5, 7 or 10 lbs/sec (1.4, 2.3, 3.2 or 4.5 kg/sec) by changing the choke tip. 
WILLIAMS FIRE & HAZARD CONTROLS' PKW is siliconized Purple K powder with intense coloring, making it perfect for use with this nozzle.
Constructed with hard anodized aluminum alloy, the nozzle weighs approximately 7 lbs. (3.2 kg), perfect for hand-line applications. Light in weight yet durable with minimum care and maintenance requirements, this versatile nozzle should be included in every fire fighter's tool box.
Adjustable flow 60/95/125 gpm
1.5" (F) NST water inlet
1" (F) NST dry chem inlet
There are no alternative products.
There are no accessory products.
This is a preview of the recently viewed products by the user.
Once the user has seen at least one product this snippet will be visible.
Recently Viewed Products