Pitot Tube / Hydrant Flow Test Tube
WFR's hand held nozzle and hydrant pitot tubes are designed to measure straight tip or hydrant flow pressures to determine the actual psi. The psi reading may then be converted to gpm by referring to the provided chart.
WFR pitot tubes are constructed of solid block aluminum with chrome plating. The large grip handle is knurled for easy grip and does not have any rubber or foam handles to be replaced. The replaceable plastic tip is designed for accuracy with flows of 570L to 7,000L at 69 to 1,000 KPa range (151 to 1851 gpm at 10-140 psi). The water/air bleed petcock valve is located at the back of the tube for easy draining. Comes standard with a 0-160 psi (0-1,100 KPa) dual gauge. Complete flow charts are supplied with each unit for proper testing.
Piezometer with case with 0-160psi 3" Marsh calibratabe gauge with petcock & knurled handle grip comes with black case.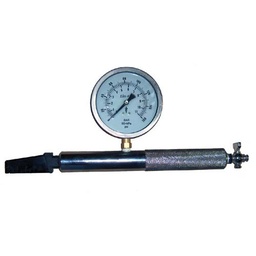 Pitot Tube / Hydrant Flow Test Tube