Streamlight Lantern 44311 Vulcan 180 Standard System - 120V/100V AC/12V DC wire rack and shoulder strap, Div 2 - Orange
The lightest portable lantern of its kind, the Orange Streamlight Vulcan 180 Rechargeable Lantern is designed to burn brighter and run longer making it an essential firefighting tool. This rechargeable, waterproof lantern has a 180 degree tilting head which allows you to direct the light where you need it. Three C4 LED's bring you extreme brightness along with two blue taillight LED's for visibility in thick smoke.
Applications: Fire & Rescue, Industrial, Safety, Utilities, Emergency Medical Services, Homeowners, Sporting Goods, Pest Control
Includes: Quick release shoulder strap and DC wire charging rack
Features a 180° articulating head that aims the beam where you need it; head locks in-place in forward facing position
Light Output:

High for a bright, far-reaching beam: 1,200 lumens; 548m beam; runs 5.75 hours
Low for a less intense beam and longer run time: 350 lumens; 296m beam; runs 16 hours

Three LEDs produce a tight beam with optimum peripheral illumination
Two ultra-bright blue taillight LEDs make certain you can be seen even in thick smoke; can be programmed on/off or flashing
Large, multi-function, push-button switch easy to use with gloved hands
Rechargeable lithium Ion battery. Fully recharges in 9 hours with battery status indicator
Flat base area allows light to stand on its own for scene lighting
Lens is unbreakable polycarbonate with scratch-resistant coating; Gasket sealed

High impact, super tough nylon body

Accessories Available: AC charge cord, DC charge cord, Lithium Ion Battery, Shoulder Strap, Charging Rack
IPX7 rated for waterproof operation to 3.28 ft (1m) submersion; Lantern floats; 6.56 ft (2m) impact resistance tested
Serialized for Positive Identification
PRODUCT SPECIFICATIONS
High Lumens: 1,200
Run Time on High: 5.75 hours
Run Time on Low: 16 hours
Beam Distance: 548 meters
Max Candela: 75,000
Battery Type: Lithium Ion
Battery Quantity: 1
Length: 7.43 inches (18.87 centimeters)
Weight: 2 pounds 7.52 ounces (1120.37 grams)
Colors: Orange
Class I, Division 2, Groups A, B, C, D; Class II, Division 2, Groups F, G: Class III; Temperature Class T4
Meets requirements of NFPA 1901-14.1.10.2 (2016) mounted in any position.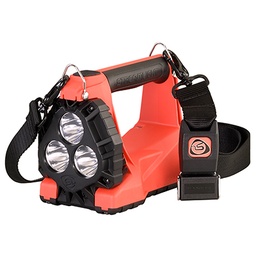 Streamlight Lantern 44311 Vulcan 180 Standard System - 120V/100V AC/12V DC wire rack and shoulder strap, Div 2 - Orange