Seek AttackPRO Thermal Imaging Camera
Seek AttackPRO™ is the decision-making weapon of choice for captains and commanding officers. Designed for simplicity and durability, AttackPRO is built to withstand drops and extreme temperatures. Find the seat of the fire, direct primary search crews, and effectively attack the fire with enhanced clarity and detailed colourization.
Seek's Dual-Gain pixel technology eliminates the confusion and visual disruption of switching between high-gain and low-gain modes. Clearly see the fire and the crew – all in one fully dynamic image.
Features
360 Size Up - Locate the fire, build your plan, and execute with confidence.
Primary Search - Clearly view and direct interior search crews during oriented search operations
Fire Attack - See the fire and the crew clearly in one dual-gain mode.
320x240 Sensor - Enhanced clarity and colorization displayed at 25Hz
Highly Durable - IP67 with operating temp up to 500°F (260°C)
Waterproof Design - Durable and reliable design built with IP67 rating
Wide, 57-Degree Field of View - Easily scan a large area to identify hazards or victims in seconds
Long-Lasting Rechargeable Battery - Greater than 6 hours of continuous thermal imaging
Simple Operation. Purpose-Built for the Fire Ground - One button thermal operation, no confusing menus or settings, Get the job done efficiently and consistently
Specifications
320 x 240 (76,800 pixels) Thermal Sensor
32° Field of View
12 inches to 1,000 feet Detection Distance
57° HFOV, 42° VFOV Field of View
-4 to 1,022°F (-20 to 550°C) Temperature Range
Operating Temperature:

-4 to 131°F (-20° to 55°C) - no time limit
up to 302°F (150°C) - max 15 min
up to 500°F (260°C) - max 5 min

> 25 Hz Fast Frame Rate
IP67 Waterproof Rating
300 Lumen LED Flashlight
3.5" Color with Corning® Gorilla® Glass Display
< 70 mK Thermal Sensitivity
2 tactile button operation
Fahrenheit or Celsius Temp. Display Scale
2 Options Image Modes:

TIBASIC (default) - Maintain your situational awareness with a simple and decluttered display showing greyscale and colorized regions
TIBASIC+ - Enhance your tactics with a spot temp readout while still maintaining greyscale and colorized regions

Battery runs >6 Hours Thermal Imaging (w/o flashlight); >3hrs (with thermal AND flashlight)
Color Palettes and Resolution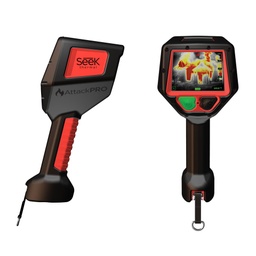 Seek AttackPRO Thermal Imaging Camera