GearGrid Hose Tamer - Mobile Cart & Winder
Has your fire department been dealing with tangled and twisted hoses? There is a solution to that problem! GearGrid's Hose Tamer Mobile Cart will allow you to transport your hose easily and successfully without it becoming tangled. The Mobile Cart protects your hose while also enhancing the maintenance and lifetime of your departments hoses.
The Hose Tamer Mobile Cart is constructed of heavy-duty steel wire that you can count on maximum durability. The Hose Tamer provides space-efficient transport and storage for ease between uses. It stores up to 200' of 3" hose and like all GearGrid products, it is built to last. You can customize this product to meet your department's needs. There are 7 colors to choose from and options of Pneumatic or NeverFlat Tires.
Design Features:
Frame:  Heavy-duty 1.25" steel tubing
Base & Back Grids:  High-strength ¼" steel wire, 3" x 3" square grid pattern
Tires: Pneumatic tires rated to 485 lbs. NeverFlat tires available upon request
Finish: Super Durable TGIC powder coat
Color: 7 standard colors
Shipping: Ships knocked down for ease of handling and reduced shipping costs
Assembly: With simple tools it's fast and easy
32″w x 34″d x 58″h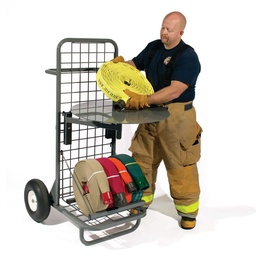 GearGrid Hose Tamer - Mobile Cart & Winder