Stop & Slow Orange Adjustable Pole 7′- Only
Stop and slow paddle pole length is adjustable for comfort and has a rubber grip. Great solution for long hours directing traffic. Fits our Stop Slow paddles (sold separately).
Our NEW Stop and Slow Orange Adjustable Pole extends to 7′. A bright orange fiberglass pole, neoprene grip and ABS cam lever lock to set desired height. The ability to switch from the 12″ handle to this adjustable pole makes our stop and slow system convenient for Flaggers. Choose the handle that is most comfortable during long hours directing traffic.
Fluorescent orange fiberglass pole extends from 4′ to 7′
Black neoprene foam handle
ABS cam lever lock
Slip resistant
Durable for every day use
Lightweight for easy transport
Electrical proof
Whether you are using your stop and slow paddles daily for traffic control or just to stop traffic for movement of trucks or pedestrians these bright orange poles will stand up for you.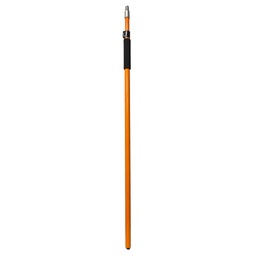 Stop & Slow Orange Adjustable Pole 7′- Only