PTR-3000AL - 3000 Gallon Portable Tank Rack Aluminum (164"x12"x32")
Husky® Folding Frame Tank Racks are stainless steel or aluminum, portable, and come with a manual release mechanism. These lightweight sturdy racks are designed for easy installation. On standard size racks, there are three hinged feet with four pre-drilled 3/8" holes per foot. This allows for easy mounting. There are two locking points, one on each end that will require two screws each. Installation can literally take only minutes.
The narrow FB9 Portable Tank Rack is available in aluminum or stainless steel with a depth of only 9". The FB9 also weighs a few pounds less than the Standard Tank Rack. If you have dimensional requirements on the side of your tanker that won't accommodate our standard rack, then the FB9 is the solution you have been looking for!
All stainless steel construction
All Aluminum is also available
All welds are Tig welded.

Diamond plate windbreaks are optional

Easy to get tanks in and out of the rack
All standard sizes
Custom sizes available, shorter, longer, taller, deeper
Easy to install, bolts right in
Stainless steel "T" button handles or vertical toggle lock clamps
Manually operated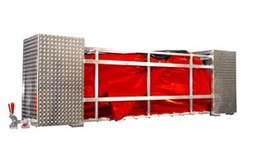 PTR-3000AL - 3000 Gallon Portable Tank Rack Aluminum (164"x12"x32")