Footman Loop Mounting System - Set of (5) 5" - 44" Variable Straps
The popular, economical way to secure virtually ANY item.
Features:
2″ wide heavy-duty, all-weather nylon construction.
A hook and loop closure system that provides extraordinary holding power.
Strap doubles back on itself through the "D" ring to double that holding power.
A 360-degree grip range.
Great for use on land, sea, and air.
More cost effective than conventional mounting systems.
Each strap ships with one 2″ Footman's Loop.
Length measured from inside of "D" ring to fold between Hook & Loops.
May be used alone, with one additional Footman, or in conjunction with 2" Fixed Strap.
Includes strap lengths of: 5-6.5", 8-11", 11-16", 16-25", and 25-44"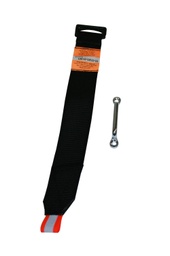 Footman Loop Mounting System - Set of (5) 5" - 44" Variable Straps