Forestry/Wildland Cottage Protection Sprinkler Systems w/ HP Suction Hose
Features
Sprinklers are used to thoroughly wet down an area. This results in combustibles (buildings and landscape) being much less likely to ignite due to flying embers and the intense heat of a nearby fire.
The soaked landscape releases moisture into the air. This lowers the ambient temperature and increases the humidity level of the immediate area. These effects extend some distance above ground level. The result is that the advancing wildfire will tend to be deflected by this less supportive environmental pocket and pass by the protected property.
Sprinklers are most effective when in continual operation for 2 or more hours prior to the arrival of the fire. However, any operational time, even as little as an hour, will increase chances of a successful defense of the property.
This package is assembled with the home owners needs in mind for Wildland fire protection in residential areas.  The starter kit is composed of the following:
(1) Fire Pump 6.5hp Medium Pressure

Electric Start
2" inlet
2" and (2) 1.5" outlets

(1) 10ft Suction Hose
(1) Foot valve Strainer for drafting
(1) Foldable carrying box with velcro closure

5mm thick to store and carry all components
70cm x 50cm x 40cm (27.5" x 21" x 15.75")

(2) Brass ground sprinklers with zinc metal step spikes

19mm (0.75") brass head operates at pressures of 25 - 80psi
Flows of 0.84-1.62 m3/H (3.7 - 7.1gpm)
Reach 10m-22m  (32 - 72 feet) in diameter
19mm (0.75") female GHT x 19mm (0.75") male GHT
17cm x 7.5cm x 36cm (6.7" x 3" x 14.2")
0.6 kg (1.32 lbs)
Sprays full circle 360 degrees

(2) Brass roof top sprinkler with roof peak bracket

19mm (0.75") brass head operates at pressures of 15 - 80psi
Flows of 0.69 - 1.03 m3/H (3.04 - 4.54 gpm)  
Reach 4m - 10m (13 - 33 feet) in diameter
19mm (0.75") female GHT x 19mm  (0.75") male GHT  
28.5cm x 20cm x 3cm (11.25" x 7.8" x 1.2")
1.15 kg (2.54 lbs)
Sprays full circle 360 degrees

(2) Brass water sprinkler on telescopic tripod

19mm (0.75") brass head operates at pressures of 25 - 80psi
Flows of 0.84 - 1.62 m3/H (3.7 - 7.1 gpm)
Reach 10m - 22m (32 - 72 feet) in diameter
19mm (0.75") female GHT x 19mm (0.75") male GHT  
17cm x 7.5cm x 36cm (6.7" x 3" x 14.2")
Aluminum tripod 57cm – 122cm (22.5" - 48")
2 kg (4.4 lbs)
Sprays full circle 360 degrees

(1) Forestry Hose, 38mm (1.5") x 50ft with quick-connect couplings

Light-weight and ready for action
Resistant to most chemicals, petrol products, ozone and UV exposure, hydrolysis, rot, and mildew.
Remains flexible to -55°C (-65°F)
Meets or exceeds all performance requirements of NFPA 1961

(4) Patrol Hose, 19mm (0.75") x 50ft with GHT couplings

Light-weight and ready for action
Resistant to most chemicals, petrol products, ozone and UV exposure, hydrolysis, rot, and mildew.
Remains flexible to -55°C (-65°F)
Meets or exceeds all performance requirements of NFPA 1961

(4) Patrol Hose, 19mm (0.75") x 15ft with GHT couplings

Light-weight and ready for action 
Resistant to most chemicals, petrol products, ozone and UV exposure, hydrolysis, rot, and mildew. 
Remains flexible to -55°C (-65°F) 
Meets or exceeds all performance requirements of NFPA 1961

(1) Adapter, 19mm (0.75") male GHT x 38mm (1.5") quick-connect 
(2) Adapter, 38mm (1.5") female NPT x 38mm (1.5") quick-connect 

(2) Caps 38mm (1.5") quick-connect 
(2) Forestry Gated Wye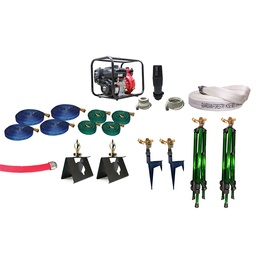 Forestry/Wildland Cottage Protection Sprinkler Systems w/ HP Suction Hose