Wheel chock Hasbra - Aluminum
Constructed of Heavy Duty Aluminum Alloy
Hasbra Wheel Chocks have been independently tested by a third party, Leveleton & Associates using a Baldwin Universal testing machine, which is verified annually to the requirements of ASTM E4.
Levelton & Associates proof test three 7" High and three 9" High Wheel Chocks described HB310. Proof Loads of 9000 Lbs. and 16,000 Lbs. respectively were applied as per SAE Standard J348.
The load was applied perpendicular to the tire bearing surface and the chock base was restrained.
All Wheel Chocks withstood the proof load without failure or permanent deformation.
Weight 4 lbs. (8.8kg)

Dimensions 12" x 8" x 7" high (30.5cm x 20.3cm x 17.8cm)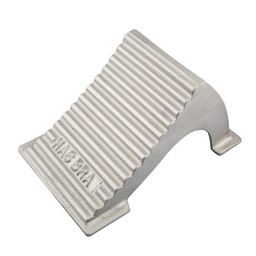 Wheel chock Hasbra - Aluminum