Mustang Industrial Universal Fit PFD
PFDs that transition seamlessly between activities and environments, while keeping everyone in the family safe. They're the place where most Mustang Survival memories start - and where future expeditioners grow their love of marine environments and adventures from. And, they're the pieces that make it possible for avid explorers to confidently bring guests along onboard or along for the ride knowing their comfort and safety will be at an all time high. Marine Essential PFDs are engineered for function and safety, and designed for all day comfort that won't cut an adventure short (just make sure you bring enough snacks for the small humans).
Offers functional and economical industrial flotation in a universal size vest.
Features
Approval: TC Marine - CAN/CGSB 65.11 - Adult PFD
Three adjustable belts
Large arm holes for mobility
SOLAS grade tape on shoulders for added night visibility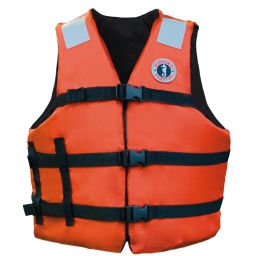 Mustang Industrial Universal Fit PFD