Rubber Strap Ice Cleats w/ 4 blunts
These ice cleats are easy to use, ideal for greater stability on ice and snow and for use by fire departments and paramedics.
The elasticized cleat is easy on/off, simply place in the arch of the boot
Turn the cleat to the top of the boot when not walking on ice or snow
Available with 4 blunts and 12" elastic strap.
Features yellow zinc plating and topped with a spark-resistant ceramic tip.
For Boot Size 9 - 12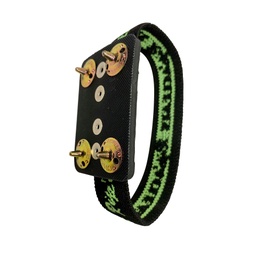 Rubber Strap Ice Cleats w/ 4 blunts