Deluxe Haul System
Compact and strong, this pre-rigged haul system can be rigged as a 4:1 or 5:1; just flip it end to end. The end of the PMI® 9 mm EZ-Bend is attached to the system instead of free floating.
2 SMC Mini PMP Pulleys
2 SMC Lite Steel Carabiners
10m, 9mm EZ-Bend
2 m, 6mm Accessory Cord
One 5mm Oval Screw Link
1 Storage Bag (Blue)
3.1lbs (1.4kg)
Advance HX Haul System
The new PMI Advance Tech HX Haul System provides an extremely strong and versatile haul system. Weighing around 3 pounds, this kit is pre-rigged as either a 4:1 or 5:1 mechanical advantage system. Just flip the kit end to end for either advantage as needed. Also included are two SMC Lite Steel carabiners, a 5mm oval screw link, and a PMI accessory cord lanyard which releases or sets the progress capture cam. This entire kit comes in a compact storage bag and is everything you need to quickly deploy a strong mechanical advantage system.
Pre-rigged system provides either a 4:1 or 5:1 mechanical advantage
Built-in progress capture system
Features the SMC Advance Tech HX and Tech Mate pulleys
Both pulleys made from high quality anodized aluminum
Kit includes 10 meters of 9mm PMI Classic Professional EZ-bend rope
Pulleys can accommodate rope diameters from 7mm to 12.5mm
Berry Compliant
3.15lbs (1.43kg)
JR Haul System
The same haul advantage as the Deluxe System, but in a lighter package. The pre-rigged 4:1 or 5:1 haul system come with SMC's new JRB mini pulleys 
1 SMC JR Pulley and 1 SMC JRB Pulley
2 SMC Aluminum Carabiners
10M, 7mm Tuff Cord
1M, 5mm Accessory Cord
1 5mm Oval Screw Link
1 Storage Bag (blue)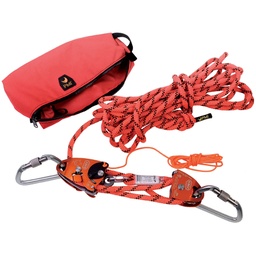 Haul System - PMI