Frontier Extrication Glove w/ Blood Pathogen
During extrication operations or search and rescue operations in all kinds of weather, having hand protection that combines cut and puncture resistance with a waterproof seal is essential.
The Frontier Extrication gloves has a dexterous anti-slip Grip with cut and puncture resistance that is double stitched onto synthetic leather with Kevlar® thread. A breathable barrier lines the inside of the gloves to create a waterproof seal that keeps hands dry in wet conditions and prevents blood pathogens from migrating to the hand. Flexible Thermoplastic Rubber on back of fingers and hand adds continuous impact protection. The stretchable fabric around a long cuff secures glove around arm, keeping debris out, highly breathable, oil & water repellent.
Flexible Thermoplastic Rubber adds complete metacarpal protection and continuous coverage from knuckles to fingertips, including extensive web and thumb coverage
Dexterous, anti-slip Grip adds oil, water and petrochemical resistance, as well as heightened grip control in wet, oily or dry environments
Water-proof bag inside keeps liquids out of the glove, while remaining breathable for hand comfort during use
One-Piece Palm with Kevlar® Stitching adds abrasion resistance, durability and longevity in high-wear areas
High-level, ANSI Cut Level 5, cut resistant palm
Reflective striping enhances hand visibility in low-light situations
Stretchable fabric wrist closure ensures debris is kept out of glove
For more information on NFPA Glove sizing, view the diagram under the Documents tab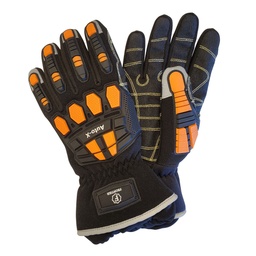 Frontier Extrication Glove w/ Blood Pathogen