Frontier Diamond Saw Blade
Frontier Diamond saw blades are formulated to cut ferrous materials fast in application with a high-speed saw. Blades are designed to cut medium gauged steel, glass, guard rails, security bars and locks, auto-body sheet metal, ductile iron pipe, aluminum, and concrete.
Features: 
Solid steel core with laser-welded segments
Diamond crystal segments are laser-welded to the circumference of the blade
Turbo-Rim design for increased cutting speed
Available in 12" and 14" sizes.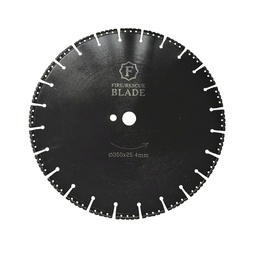 Frontier Diamond Saw Blade