Foam Ranger Bush Buggy Package
The Foam Ranger is the ultimate beast for suppressing a fire in record amount of time. With its use of foam, it will suppress a fire up to four times faster than water. The foam helps create long-lasting fire breaks. Get the most possible from your foam while saving water with a special air induction nozzle. Also comes with a built-in foam tank and foam gauge that lets you control how much foam you dispense with the twist of a knob.
Features
Poly-Flex Hose Reel - Unlike steel, the crack-proof, easy-wind poly hose reel will flex before it breaks. Included with the reel is 30M (100ft) of 19mm (0.75") 200psi booster hose and a foam nozzle (nozzle is attached by 25mm (1") NPT thread).
Solid-Wall Tank Construction - With thick side-walls, this workhorse is high-impact resistant and virtually indestructible. 
Foam-Command Controls - Quickly select the correct foam rate for the job.
Easy-Store Foam Tank - This built-in 15 gallon tank stores foam to save setup time with an external foam source.
Air-Induct Nozzle - This smart foam gun draws the right amount of air into the liquid to create effective foam texture.
Time-Saver Fork-Points - The built in fork slots makes the entire unit a breeze to lift and load
Pump comes with one 38mm and (2) 25mm discharge outlets for use with garden hose or forestry hose.
Also included is a 7.5M (25ft) x 50mm (2") flexible suction hose length and poly foot strainer. Suction hose has a 50mm (2") quick-disconnect (camlock) on one end for connection to the pump, and 50mm (2") male NPT thread on the other end which connects to the poly foot strainer.
Option: Add Baffle Balls to increase load stability and reduce wear and tear of your tank.  
Specifications
Size (US Gallon)
60
100
200
250
300
400
Dimensions
(L x W x H)
48" x 38" x 23"
48" x 45" x 27"
80" x 47" x 33"
80" x 47" x 38"
102" x 46" x 36"
102" x 46" x 45"
Motor Type
GX160 Honda/5.5HP
GX160 Honda/5.5HP

GX160 Honda/5.5HP 
GX160 Honda/5.5HP
GX160 Honda/5.5HP
GX160 Honda/5.5HP
Pump Type
Centrifugal  
Centrifugal  
Centrifugal  
Centrifugal  
Centrifugal  
Centrifugal  
Flow Rate (GPM)
120
120
120
120
120
120
Pressure (PSI)
100
100
100
100
100
100
Hose Length
100'
100'
100'
100'
100'
100'
Spray Distance (Vertical)
33'
33'
33'
33'
33'
33'
Spray Distance (Horizontal)
36'
36'
36'
36'
36'
36'
Dry Weight (lbs)

240
255
393
493
556
576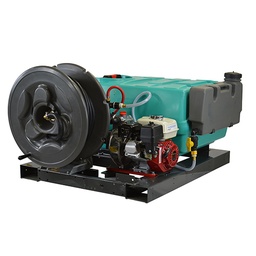 Foam Ranger Bush Buggy Package