FireRein Eco-Gel Class A/B
Eco-Gel™ is a proprietary (patent pending) water additive that is instantly transformed into a highly effective firefighting hydrogel when introduced into a water stream at concentrations ranging from 1% to 6% by volume.
Eco-Gel™ overcomes the performance and environmental limitations of standard firefighting foams by producing a novel firefighting hydrogel that:
knocks down Class A and B fires
clings to vertical and horizontal surfaces
creates a safe egress path
can form a fire break for bush and grass fires
prevents re-ignition
Eco-Gel™ is the only firefighting water additive certified by UL and the US Department of Agriculture (USDA) to be 100% bio-based.  
50% Faster
In fighting Class A and Class B fires, FireRein Eco-Gel is proven to extinguish fires in half the time of traditional foams and gels. This allows municipal fire departments and industrial sites to more quickly protect the people and products they are responsible for, as well as prevent future fires from spreading. This reliable and responsive product can be applied with standard proportioning equipment.
100% Easier to Clean
FireRein Eco-Gel is a hydrogel that is completely soluble in any type of water. Once a fire is extinguished with Eco-Gel, any residual hydrogel can easily be  washed away with water - a garden hose will do!
100% Non-Toxic
"It's so safe you could eat it!" In fact, FireRein Eco-Gel is certified through the USDA's BioPreffered Program and is made from food grade material. This allows municipal fire departments and industry to use it without worrying about the potential for contamination of the fire site, health hazards to their personnel or water run-off.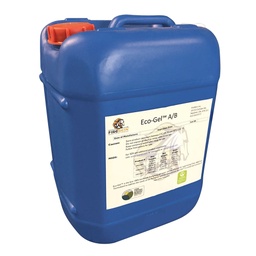 FireRein Eco-Gel Class A/B