Fire Hose Tester (Wheeled)
The fire hose tester is capable of testing fire hose up to 6" in diameter. A large 1.5" inlet allows the Fire Hose Tester to quickly fill and bleed the lines through a 1.5" manifold. a ball valve strategically placed on the inlet piping allows the user to fill with large volume at low pressure and after closing this valve, test with low volume at high pressure, eliminating the elements that may cause wild lines. The Fire Hose Tester meets or exceeds test standards set forth by the NFPA 1962. The Fire Hose Tester is a safer, less costly and more efficient way to test your fire hose, keeping your pumper ready for action. Gas option available.
Four independently controlled outlets, 1.5" stainless steel self cleaning ball valves with NPT female threads (must order adapters)
Stainless steel liquid filled gauge ensure accurate readings, with less flutter
Rugged roll cage construction protects pump from damage
Built-in safety features such as automatic pressure bypass and exclusive air bleed systems
3gpm up to 500psi
1 hp. Electric Motor, TEFC, 110/220V, 50 or 60 Hertz capability
28" x 23" x 19" (71cm x 58cm x 48cm)
Weighs 158lbs. (72kg)
Note when ordering - this unit comes with NPT female inlet and outlets so you must specify what adapters you will need: 38mm, 65mm or Storz.
Recommend one 38mm inlet adapter, 4-38mm outlet adapters, 4-65mm adapters for testing 65mm hose, also available 100mm and 125mm Storz adapters for testing LDH.  On discharge side of hose we recommend a 38mm bleeder test cap and 65mm x 38mm reducer for testing both sizes of hose.  Also available Storz bleeder caps for 4" and 5"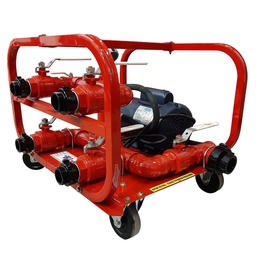 Fire Hose Tester (Wheeled)