Fire-Dex H41 Interceptor Hood w/ Nano Flex
The Interceptor™ Hood is made with a layer of DuPont™ Nomex® Nano Flex inside that acts as a filter to reduce firefighters' exposure to persistent fire ground carcinogens and other contaminants. This revolutionary material is sewn between two layers of knit 6 oz. PBI®/Lenzing (20%/80%) to provide the maximum performance for particle barrier filtration, comfort, and thermal & flashover protection. Available in three sizes to fit a range of head circumferences: Medium (up to 22" head circumference), Large (22"-24" head circumference), and X-Large (24"-26" head circumference).

SCIENTIFIC DATA
The Interceptor™ blocks 95% of particulates at .2 micron in size or larger
For perspective, there are 25,400 microns in one inch and a human hair is about 75-100 microns wide, so a .2 micron particulate is about 500x smaller than a strand of hair
Testing has shown that the particulates sized at less than .2 microns don't have enough mass to make it through the double layer knit and the Nomex® Nano Flex; essentially meaning that this hood blocks 100% of particulates less than .2 microns
Nomex® Nano Flex is a revolutionary new material however, unlike FR moisture barrier membranes, this new lightweight (0.5oz/yd2) "barely-there" material is actually completely breathable
Nomex® Nano Flex is a non-woven, web technology, made of submicron continuous fibers.
THE NEED FOR A PARTICLE BARRIER
The Interceptor™ with Nomex® Nano Flex was designed to keep potentially carcinogenic particulates and other harmful contaminants off of firefighters' jaws, faces, and necks; areas identified as highly absorptive and more permeable than other areas of skin; areas likely not getting enough protection from hazardous particles with the FR knit hood technology that is currently available.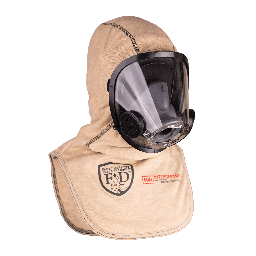 Fire-Dex H41 Interceptor Hood w/ Nano Flex