Bullard Isotherm Cooling Vest
Isotherm® is a revolutionary technology that offers more cooling, lasts longer and is more comfortable than any other cooling product on the market.
Tests have proven that the Isotherm cool vest stays within the human "comfort zone" much longer than any other product. Unlike ice or gel packs that quickly lose their cooling, Isotherm's unique phase-change technology maintains a constant, pre-set temperature that will provide hours of effective cooling to the user. The cool packs within the vests can be recharged thousands of times, providing hours of safe, controlled body temperature management.
Provides hours of effective cooling
Remains at a constant 13°C (55°F) for hours of cooling
Quickly recharged — 20 minutes in ice or cold water to recharge
Interchangeable front/back cool pack system for continual cooling
Constant temperature phase-change technology outperforms ice and gel packs by hours!
Lightweight
No condensation
Adjusts for maximum comfort and flexibility
Choose blue, yellow, or high-visibility yellow
Large vest fits medium to large sizes
XL vest accommodates extra-large sizes
Flame-retardant
6.5 lbs (2.9 kg)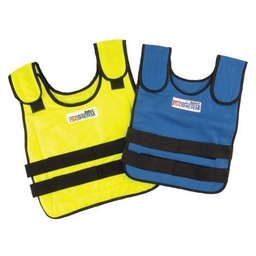 Bullard Isotherm Cooling Vest