FireRein HotWorx Fire Prevention Spray *Clearance Sale* $12
Works in a multitude of applications by protecting surfaces during hot-work styles activities, for example: cutting, grinding, welding, soldering, torching. When sprayed from the 400g can, the layer of Hydrogel stays in place, absorbing heat and extinguishing any wayward sparks or embers. The gel's patented formula will provide protection and eliminate re-kindle until it is safely wiped or rinsed away. HotWorx™ is a fire prevention spray that can be used to extinguish small fires when necessary.
Easy to use, easy to clean-up
Certified 100% Bio-Based/Plant Based
Non-toxic to people and animals
Biodegradable, aerosol free
Environmentally safe
Operable at any angle
Flows easily from the can and sticks to the intended surface, providing quick, effective coverage in seconds
Spray can is recyclable
To use HotWorx™:
Coat direct surface area liberally with HotWorx™ Fire Prevention Spray *Please not that this product is a Class A type formula prevention tool only
Conduct you hot work project ensuring all safe practices are being followed and step-by-step instructions are adhered to in accordance with the instruction on the can label
Upon completion the bio-based, plant-based, non-toxic Hydrogel can be wiped or rinsed safely from the surface area. There are no adverse side effects to the user.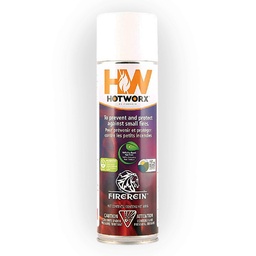 FireRein HotWorx Fire Prevention Spray *Clearance Sale* $12