Disposable Emergency Warming Blanket
The Disposable Emergency Blanket is an ultra-light, ultra compact Mylar blanket for emergency warmth that comes in a pocket-sized wrapping. Ideal for retaining body heat during emergency or decontamination events.
Contents
Dimensions:

Unfolded: 55" x 82" (1.4m x 2.1m).
Folded: 3" x 5" x 1 (7.6cm x 12.7cm x 2.5cm).

May be used in conjunction with other 

blankets 

to provide extra warmth.
Individually wrapped.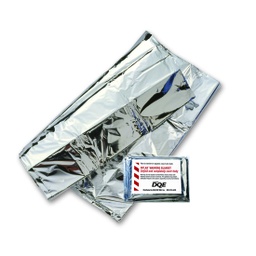 Disposable Emergency Warming Blanket