Fire Pump 46hp Frontier HP & HV
This pump is the ideal tool to fill your fire truck, supply your pump truck or carry water over a long distance.
ENGINE SPECIFICATIONS
Briggs & Stratton 46hp, air cooled engine.
2-cylinder, 4-stroke gasoline engine.
Electric start.
Four gallons (15L) capacity remote fuel tank.
INCLUDED ACCESSORIES
Low oil alert.
Pressure gauge.
12-V Battery.
PUMP UNIT SPECIFICATIONS
Single stage centrifugal pump.
Pump body made from high-resistance aluminum alloy casting.
Solenoid Valve Carburetor, manual choke.
Electric priming system with rotary vane vacuum pump.
One 2.5" (65 mm) delivery outlet with pressure valve.
One 3" (77 mm) suction inlet.
Dimensions: Length: 30.7" (780 mm); Width: 23.2" (590 mm); Height: 30.7" (780 mm).
Weight: 203 lbs. (92 kg).
PERFORMANCE
400 GPM @ 90 PSI
350 GPM @ 120 PSI
250 GPM @ 150 PSI
LIMITED WARRANTY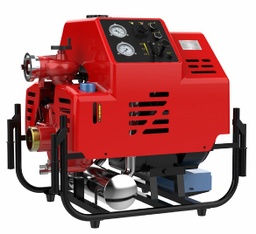 Fire Pump 46hp Frontier HP & HV