Frontier 100ft Throw Rope Bag
The Frontier Rescue Throw Rope Bag is a pivotal tool when it comes to water and ice rescue scenarios. The self-contained nylon bag comes with 100 feet of reflective floating rope. 
Includes 100 feet (30m) of 9mm (3/8") reflective, floating rope. 
Bright orange nylon bag with silver reflective band 
Bag includes an adjustable quick-release buckle strap for quick deployment 
Weight: 0.85kg (1.9lbs)
Tensile Strength 3,600 lb. (16kN)
Water Rescue Rope is a splice able floating rope for use in swift-water rescue applications. The rope has a durable nylon sheath that protects the braided multi-filament polypropylene (MFP) core from damaging UV rays. This combination results in a strong product that floats just under the surface of the water.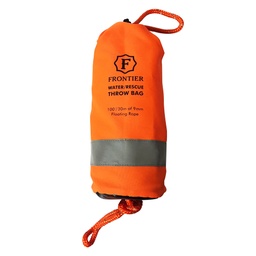 Frontier 100ft Throw Rope Bag