Frontier Rescue Raft/Boat
The Frontier Inflatable Rescue Raft/Boat is a versatile craft designed for use in rivers, lakes, and flooded urban/coastal areas. The raft is lightweight and portable both inflated and deflated, allowing it to be carried into remote bodies of water aiding in efficient casualty recovery.  
Includes: Raft, foot inflation pump, repair kit, and carry bag.
Five (5) separate inflatable chambers provide added security should one chamber become compromised.
Constructed of durable PVC plastic
Fourteen (14) handles and six (6) stainless steel D-rings can be found around the sled to help aid team carries and in-water casualty management
Double-walled floor for added stability - 10 cm (4") thick
Specs: 
Constructed of durable PVC plastic 
Max load capacity: 850 kg (1,874 lbs.) or approximately 6 people.
Fill time: 5 minutes with foot pump (1 minute per section).
Max inlet fill (pontoon/tubes): 5 psi (0.35 bar)
Max inlet fill (floor): 10 psi (0.7 bar)
Dimensions: 

Overall length: 470 cm (185")
Overall width: 140 cm (55")
Internal width: 70 cm (28")
Pontoon (tube) diameter: 35 cm (14")

Weight: 42 kg (93 lbs.)
Paddle and SCBA spider fill sold separately
Operation Procedure:
Once you have unpacked your boat, unfold it and lay it out putting the floor into it before inflating.
Using the foot pump fill up the four side compartments and then the floor. Each valve will take about 60 seconds to fill. Please note that each valve has a lock so you must lightly push it in and turn to allow the one way valve to operate. When deflating push in valve and make a ¼ turn to release air. Store unit deflated and in the bag supplied. The foot pump can be used to suck the remaining air out of the boat for storage.
If you have purchased the spider fill hose which is an optional item, it is important to not over fill the boat as it is designed to hold 5psi maximum and the floor is 10psi maximum. Same process must be used with valves as with foot pump.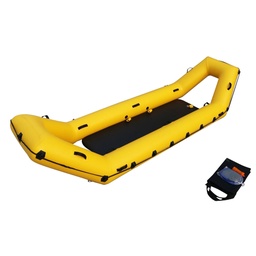 Frontier Rescue Raft/Boat