Zico SURE-GRIP Tool Mount
The Zico SURE-GRIP tool mount is the next generation in tool mounting. Dependable and quick with tighter, stronger retention while also providing a smaller compartment footprint.
Benefits:
DEPENDABLE - Utilizes the popular time-tested, all-weather hook & loop straps that have reliably retained your tools and equipment for over 20 years. Base is made with high-tensile strength plastic for years of dependable use.
MORE PRECISE GRIP RANGE - Unlike other mounts, there is no peg that must fit into a predetermined series of slots to secure. The SURE-GRIP gives you a tighter, more "true" grip on every tool, no matter the handle shape
FASTER TO SECURE AND FASTER TO RETRIEVE - Quickly loosen the strap and pull the tool out, it's that simple. SURE-GRIP is easier to use with gloves as there is no need to squeeze your gloved fingers around tiny pegs in order to free the tool. 
TIGHTER, STRONGER RETENTION - The flexible 1.5" wide nylon straps provide more gripping surface area than 5/8" rubber straps. Tension is applied by pulling away from the mount, not towards, giving you more leverage and allowing you to apply more of your strength when securing. 
LESS AREA NEEDED FOR MOUNTING - The straps on other mounts extend 2.5'' past the bracket base while ours does not, allowing you to fit more equipment.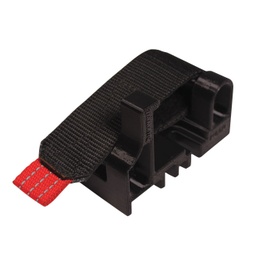 Zico SURE-GRIP Tool Mount