This 16-in. rubber pull-on boot is the only rubber boot on the market with NFPA 1971 proximity firefighting capability. Whether it's Aircraft Rescue Firefighting (ARFF) or other proximity capability needs, the Ranger Model 6220 is optimized for premium performance AND cost effectiveness. You get outstanding thermal performance in a remarkably lightweight boot!
16″ Rubber Pull-on
Proximity, Structural, and Liquid Splash
Certifications
NFPA 1971, 2013 Edition for Structural Firefighting, Proximity Firefighting, and Liquid Splash/Hazardous Material Emergencies, and CSA Z195-14 for Protective Footwear.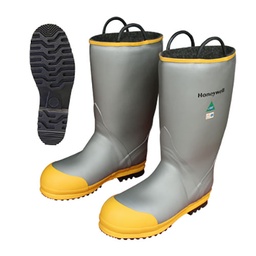 Proximity Boots