Chemguard CMFC-1 Mobile Foam Cart
The Chemguard Mobile Foam Cart is designed to hold 36 gallons of fire fighting foam concentrate and contains a 95-gpm in-line eductor, a 95-gpm handline nozzle and 50 feet of 1.5" rubber lined single jacket fire hose. The ease of handling and mobility of the foam cart makes this a very effective fire-fighting unit for flammable liquid fires. To place the unit in operation, connect a length of 1.5" fire hose from a suitable water supply source to the in-line eductor inlet. Note: The in-line eductor design point is 95 gpm at 200 psi.  Any reduction in pressure at the in-line eductor inlet will create a corresponding decrease in flow. The tank is manufactured of reinforced fiberglass, which makes the unit suitable for use with all types of foam concentrates and environments.
Features
Nozzle features a ball shut-off for better stream control and is designed to give a constant flow whether on straight stream of fog patterns
3"x16" pneumatic tires
Fire hose has lightweight 1.5" NST couplings
Pick up tube on in-line eductor is manufactured of stainless steel
Options
Additional 50-foot length of fire hose for connecting to water supply.
Other nozzle selections
60 GPM flow rate
Red vinyl cover with "FOAM UNIT" in 4" high white letters
CAUTION If using any of the AR-AFFF type foam concentrates in the unit, it is recommended that a thin layer of mineral oil be placed on the surface of the foam concentrate to minimize evaporation.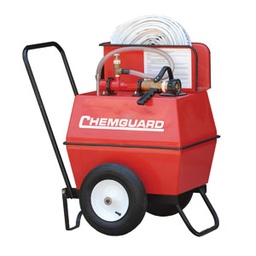 Chemguard CMFC-1 Mobile Foam Cart