Establish an area for rest, recovery, and relief from climatic conditions with the rehab shelter package. Supports the NFPA 1584 Rehab Standard to make it easier to maintain high activity levels while ensuring emergency responder safety.
Package includes:
Rehab Area Shelter Provides shade and protection from the elements for rehab setup. The frame is rust-resistant and the water and fire-resistant fabric meets NFPA-701, CFC (California Fire Code), and CPAI-84 standards. 10' x 10' white canopy stays attached to the frame for quick setup. "REHAB" printed on two sides. Includes 4 removable sidewalls.
Rehab Area Folding Table Durable and portable folding table that supports medical monitoring or other rehab functions. Open size: 24"w x 48"l x 29"h.
Rehab Relaxation Chair Qty 4 - Extra-wide, comfortable chair with a cushioned armrest, back, and seat for relaxation during rehab. Constructions of durable nylon with a steel collapsible frame. Seat height: 18". Weight limit: 500lb. Unit weight 15 lb.
Folding Chair Qty 2 - Compact, sturdy chair suitable for use on any type of ground. Folds to 1" thick for easy storage. Seat height: 17". Open size: 16"w x 17"l x 29"h. Weight limit: 300 lb. Unit weight: 4 lb.
Army Cot Sturdy cots with enhanced stability, along with compact storage to maximize space. Rust-resistant frame. Water and stain-resistant material made of 600 denier polyester with PVC backing. Open size: 77"l X 28"w x 18"h. Unit weight: 19 lb. Weight limit: 500 lb. Box of 2.
Rehab Area Toolbox Compact plastic tote containing supplies for setting up a rehab area and evaluating the medical status of responders.
LED Work Light Qty 3 - Hanging LED light for illuminating a shelter area. High impact lamp protector included. Hooks hang either horizontally or vertically. 10 watt, 900 lumens, up to 50,000 hours of LED life.
Extension Cord Qty 2 - Safe for outdoor use for rehab supplies requiring electricity. Features a lighted triple tap end. Length 50'.
Sack-It Clean Up Dispenser Collect and contain waste with this portable clean-up kit. Contains a folding PVC bag holder and a box of 20 super-thick, 3 mil bags with draw-cord closure.
Storage Bin - 28" x 21" x 15" Handy storage for rehab supplies. High -density polyethylene with attached hinged cover that opens and closes easily for ready access. Hand grips for carrying. Non-slip bottom surface.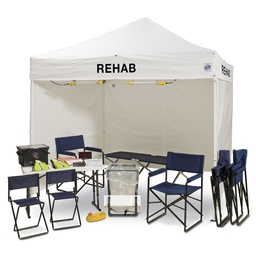 Rehab Shelter Package