Akron Test Gauge Kit - 89mm (3.5")
This Test Gauge Kit is to be used in conjunction with annual apparatus pump testing or for checking the accuracy of pump panel gauges.
Features:
The Test Gauge Kit has a convenient space between the pressure and vacuum gauges. This space is for remote mounting of the pressure gauge from Akron's  Apparatus Flow Test Kit. Once mounted in the designated area, the gauges are easy to reference during a pump test.
36" test hoses, connect directly to underwriters test fittings - 1/4" male swivels for fast and easy connections to apparatus test fittings
+-1% accurate, 3 1/2" diameter, freeze protected liquid filled gauges
0-30", .5Hg increment vacuum and 0-300, 5 psi (34 kPa) increment pressure gauges
The gauge mounting plate is made from 1/4" black PVC foam board. The top of the mounting plate has a double break so it may be hung from the top of the apparatus gauge panel, hooked over gauge snubbers or other handles making the test gauges easy to reach and read.
Heavy-duty carrying case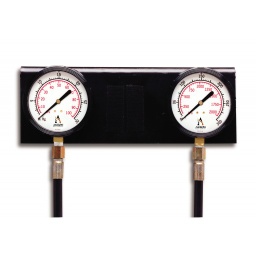 Akron Test Gauge Kit - 89mm (3.5")